UNOFFICIAL Liquid Dark Rom 7.1.2 Nougat for Samsung Galaxy J7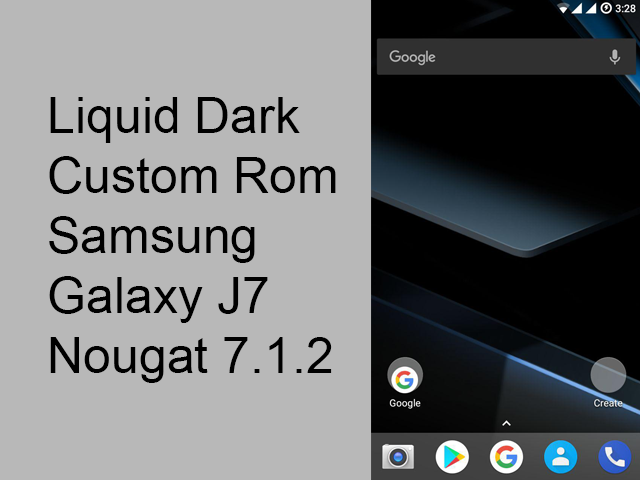 UNOFFICIAL Liquid Dark Rom 7.1.2 Nougat for Samsung Galaxy J7 ight weight AOSP Base sooth fast and stable Custom Rom named LIQUID DARK
UNOFFICIAL Liquid Dark Rom 7.1.2 Nougat for Samsung Galaxy J7
Light weight AOSP Base sooth fast and stable Custom Rom named LIQUID DARK Now ported for Samsung Galaxy J7 2015 Variant.
Features:
OMS - Substratum
All LiquidSmooth features
Android-7.1.2 -
Battery and Notification Lights -
Status bar clock customization
Status bar brightness control -
Status bar customization Quick Settings -
Status bar tap to sleep -
Navbar customization -
LCD Density -
Blacklist -
Quick pulldown list preference -
Weather display to status bar -
List animation Views and Interpolator -
AOKP Custom System animations -
App Circle Sidebar -
Custom Carrier label -
Advanced Reboot -
Battery text mode -
Live Volume Steps -
Volume key cursor control -
Network speed indicator -
Clear recents button -
Back button app kill -
Toast Animations -
LiquidDark Wallpaper app -
CM LockClock -
Slim Recents -
Live Display -
Get more RAM and faster responses by disabling verify-bytecode! -
Bugs -
No camera (For camera flash the zip given below)
Hotspot
VoLTE
Fast battery drain Lockscreen flickering (For only those who have J7 display problem)
Installation -
1. Reboot to TWRP recovery.
2. Wipe dalvik, cache, system and data.
3. Flash liquid dark zip, google camera and supersu. Do not flash gapps.
4. Reboot into system.
5. After reboot, again boot into recovery if you want gapps and flash them. (Optional)
6. Done.
Downloads -
Liquid dark zip: DOWNLOAD
Google Camera: DOWNLOAD
SuperSu : DOWNLOAD
Credits : Has.007(Developer).